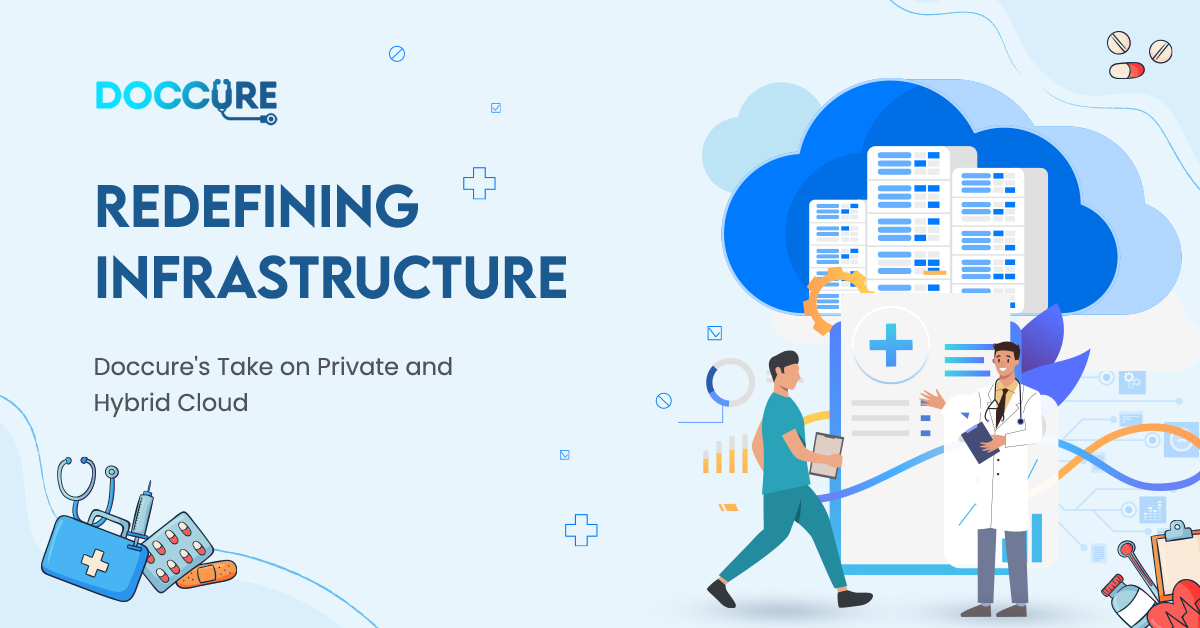 In the swiftly changing digital realm, cloud computing has become the cornerstone of contemporary IT structures.
With businesses seeking heightened agility, security, and adaptability, the significance of effective cloud solutions cannot be emphasized enough. Doccure, at the forefront of cloud technology for healthcare, is reshaping the way businesses perceive and utilize private and hybrid cloud solutions.
Embracing a New Horizon of Cloud Solutions
The digital world is pivoting towards a cloud-first approach, and businesses are seeking infrastructure that can keep pace with their dynamic needs. This paradigm shift has led to the emergence of private and hybrid clouds, offering tailored solutions that balance control, security, and scalability.
Private Cloud: Elevating Security and Control
Private Cloud Security & Control:
Symbolizes heightened security and exclusivity.
Doccure provides dedicated, secure resources hosted in trusted data centers.
Shields sensitive data from risks linked to public cloud platforms.
Enhanced Control via Private Cloud:
Offers transformative control for businesses.
Allows tailored configurations, enhancing control and flexibility.
Vital for compliant industries like healthcare and finance.
Hybrid Cloud: The Best of Both Worlds
Hybrid Cloud Versatility:
The epitome of cloud versatility, combining private cloud security and public cloud scalability.



Doccure's Integrated Approach:
Doccure seamlessly integrates on-premises, public, and private cloud resources, offering unmatched flexibility for resource scaling, optimizing performance and costs.
Efficiency and Data Security:
Hybrid approach maximizes operational efficiency while securely managing critical data, finding the perfect balance between performance and protection.
The Doccure Edge: A Holistic Approach to Cloud Infrastructure
Doccure envisions a cloud landscape that is not only secure and scalable but also tailored to individual business needs. Our approach to private and hybrid clouds is centered on empowering businesses with innovative solutions that drive growth and efficiency.
Customization for Unique Business Needs
Understanding that no two businesses are alike, Doccure crafts private and hybrid cloud solutions that align with the distinct requirements of each enterprise. Whether it's about enhancing security, ensuring compliance, or optimizing costs, our experts work closely with clients to design solutions that fit like a glove.
Seamless Integration and Interoperability
One of the cornerstones of Doccure's approach is ensuring that our cloud solutions seamlessly integrate with existing IT infrastructure. Our team meticulously assesses the current setup, devising a roadmap for integration that minimizes disruptions and maximizes efficiency.
Enhanced Security Measures
Security is a non-negotiable aspect of modern cloud infrastructure. Doccure's private and hybrid clouds are fortified with robust security measures, including advanced encryption, multi-factor authentication, and regular security audits. We leave no stone unturned in safeguarding our clients' data and operations.
Scalability and Future-Readiness
Businesses require infrastructure that can change along with them in the quick-changing digital environment. The scalability of Doccure's cloud solutions guarantees that our clients are always ready for growth and change. We prepare your infrastructure for the future so you may concentrate on your business's goal.
Closing Thoughts
Doccure's foray into private and hybrid clouds is a testament to our commitment to empowering businesses in their digital journey. We believe that cloud infrastructure should not be a limitation but an enabler for growth and innovation. With Doccure, you're not just embracing a cloud solution; you're embracing a future where your infrastructure works for you, enabling a seamless blend of security, scalability, and control.
It's time to redefine your infrastructure, and Doccure is here to lead the way.Take the lead in shaping a cloud-centric future that propels your business towards unparalleled success. Request a DEMO or connect with us now - [email protected] or +91 99425 76886.
Leave A Comment