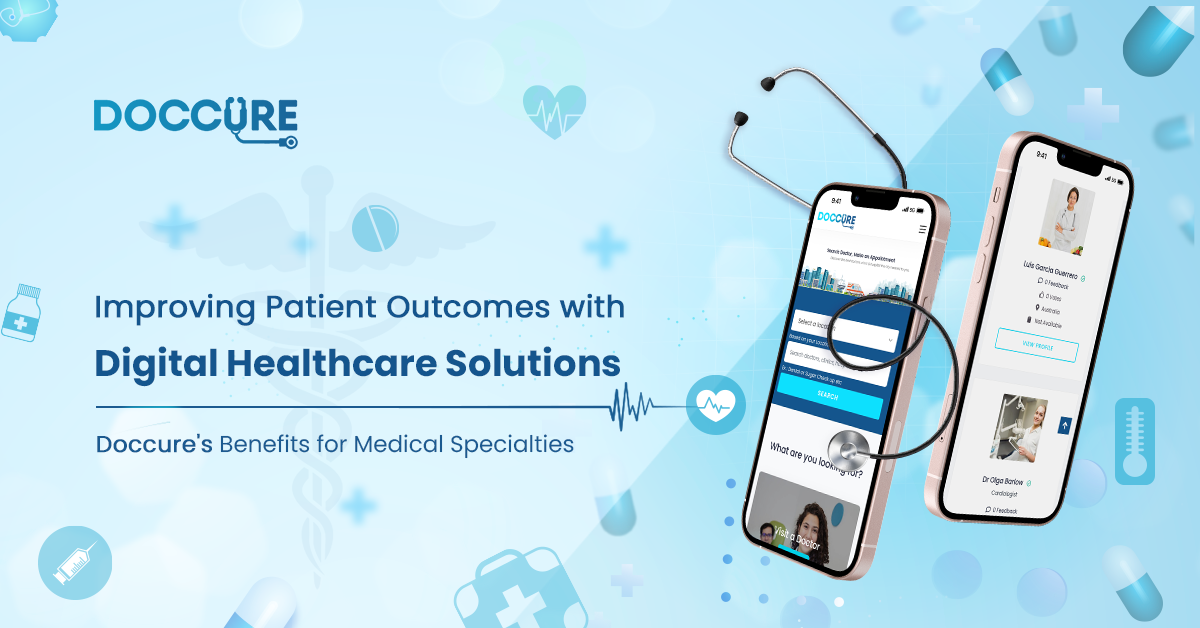 Introduction
Digital healthcare solutions have revolutionized the healthcare industry by providing patients with remote access to healthcare providers and personalized care plans. Among these solutions, telemedicine has been particularly effective in improving patient outcomes for those with chronic conditions.

Doccure is a digital healthcare solution that offers a comprehensive approach to patient care, providing benefits for various medical specialties.

Based on the studies conducted
According to a study published by the Journal of Medical Internet Research, telemedicine has been found to improve patient outcomes for those with chronic conditions such as diabetes, heart failure, and chronic obstructive pulmonary disease (COPD).

Telemedicine lowers hospital admissions and ER(Emergency Room) visits



The platform includes remote patient monitoring and medication management
Patients can communicate with healthcare providers, track symptoms and vital signs, and receive personalized care plans
A study published in the Journal of Diabetes Science and Technology showed that remote monitoring of blood glucose levels improves glycemic control, reduces hospitalizations, and increases patient satisfaction.

Telemedicine enables remote patient monitoring and data sharing for personalized care.



Healthcare providers can communicate with patients, monitor symptoms and vital signs, and make real-time adjustments to care plans.
Telemedicine features lead to more efficient and effective care, better patient outcomes, and reduced healthcare costs.
Doccure's Benefits to Various Medical Specialties

Doccure is a digital healthcare solution that offers a wide range of benefits to various medical specialties.

Telemedicine for Cardiology
Doccure's digital healthcare solution is designed to benefit healthcare providers, including cardiologists.
The platform enables cardiologists to track patient information and monitor progress easily
Remote consultations are also possible with Doccure, allowing cardiologists to provide timely care and treatment to their patients from anywhere.
Offer personalized and efficient care with Doccure's solution.
Telemedicine for Pediatricians

Pediatricians can also benefit from Doccure's platform by tracking a child's developmental milestones such as physical growth and cognitive development and providing interventions as needed.
Early identification of developmental delays can improve child health outcomes.
Easy access and tracking of patient data support informed decision-making for pediatric care.
Doccure's platform can improve the quality of care provided by pediatricians, increase patient satisfaction, and help healthcare providers maximize their profits.
Telemedicine for Oncologists

With the help of Doccure, oncologists can easily monitor patient symptoms, such as pain, fatigue, and nausea, in real-time.
Oncologists can access a patient's complete medical history on Doccure's platform.
Doccure's platform enables collaboration among specialists for a comprehensive approach to cancer care.
This can result in faster diagnoses, earlier interventions, and better outcomes for patients.
Telemedicine for Psychiatrists

Psychiatrists can use Doccure's digital healthcare solution to offer remote consultations and personalized treatment plans, as well as securely manage patient data.
Beneficial for patients who have difficulty physically visiting an office
Allows for efficient, effective, and personalized care
Improves mental health outcomes
Telemedicine for Dermatologists

With Doccure's digital healthcare solution, dermatologists can diagnose skin conditions remotely, view high-quality images of skin lesions or rashes, and monitor their patients' progress over time.
Doccure's platform enables dermatologists to prescribe medications and provide personalized care plans remotely.
The platform improves accessibility to dermatological care for patients in rural or underserved areas.
Doccure's platform helps ensure timely and effective treatment, leading to improved health outcomes.
Telemedicine for Endocrinologists

Doccure's digital healthcare solution can help endocrinologists provide personalized care to their patients with diabetes or other endocrine disorders.
Doccure enables remote monitoring of glucose levels for timely treatment.
The platform provides secure management of patient data and remote consultations for patients in remote areas.
Endocrinologists can provide high-quality care using Doccure regardless of patient location.
Telemedicine Platform for Dentists

For dentists, Doccure offers a specialized telemedicine platform that allows for remote consultations and dental care services.

Powerful tools for appointment scheduling and patient record-keeping



Remote diagnosis capabilities for modern dental practices
Potential for dental professionals to maximize profits with the platform
Conclusion

Overall, Doccure's digital healthcare solution can benefit healthcare providers in various other streams of medical care, including pulmonology, gastroenterology, and more. By providing a comprehensive, digital healthcare solution, Doccure enables medical professionals to offer personalized, efficient care to their patients, leading to improved health outcomes.
If you're a healthcare provider looking for a comprehensive digital healthcare solution to improve patient outcomes and efficiency, Doccure is the answer. With its range of features and benefits for various medical specialties, Doccure is well-positioned to meet the growing demand for digital healthcare solutions.

Contact us today to learn more about how Doccure can benefit your practice and your patients. Book a DEMO today. Email: [email protected], Call: 91 99425 76886.
Leave A Comment