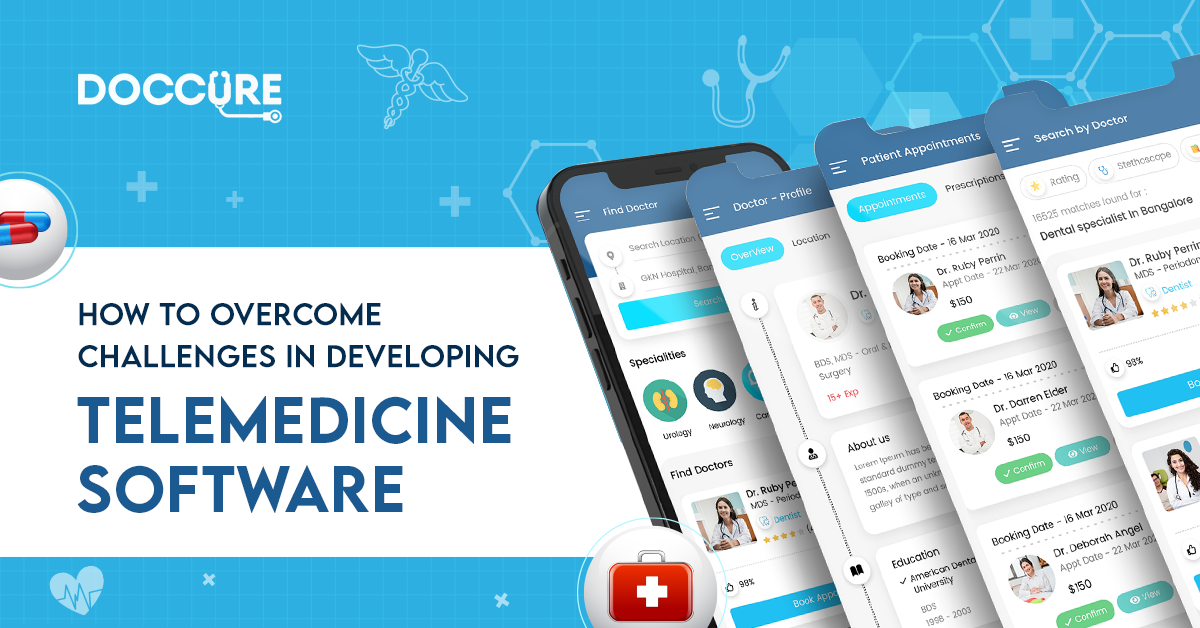 Have you ever thought, challenges in any field make you stronger in terms of knowing things better or learning new skills, just like how you mastered the basic computer troubleshoots in your school days?
You are on the right page if you are planning to buy a Telemedicine Software or face any challenges in developing the software.

Telemedicine software has become an essential tool for healthcare providers to reach patients remotely. Developing software for telemedicine presents unique challenges, but with the right approach, it can be done successfully.

There are risks and difficulties in every business during its early stages. Software for telemedicine is also not an exception. However, every obstacle can be overcome with viable solutions, and the same holds true for telemedicine software.

In this blog post, we will discuss how to overcome challenges in developing Telemedicine Software.

Regulatory Compliance:

Yes, you heard it right.

Developing Telemedicine Software requires compliance with various regulations such as HIPAA, GDPR, IEC 62304, DICOM, and others. Healthcare providers should work with legal experts to ensure their software meets all regulatory requirements.

Integration:

Telemedicine software should integrate seamlessly with existing healthcare systems, such as Electronic Health Records (EHRs) and Doctor appointment booking systems. Healthcare providers should work with IT experts to ensure their software can integrate with existing systems.

By collaborating and leveraging each other's expertise, healthcare providers can develop Telemedicine Software that is secure, user-friendly, and compliant with regulatory requirements.

Security:

Privacy issues occur when patients are reluctant to disclose their personal information during telehealth video chats. That also applies to the clinic's shared and stored medical information.

Telemedicine software must be secure to protect patients' sensitive information. Healthcare providers should use encryption technology and other security measures to ensure data privacy.
User Experience:

Software for clinics must be easy to use, especially for patients who may not be tech-savvy. Healthcare providers should conduct user research to understand patients' needs and preferences and design a user-friendly interface.

Connectivity:

Telemedicine requires a stable internet connection, which can be a challenge in some areas. To guarantee that patients may get care even in locations with inadequate internet connectivity, healthcare professionals should look into alternative connectivity options, such as mobile data.

Financial:

Telehealth, although perceived as a cost-effective alternative to traditional healthcare services, can be expensive. Many are unable to afford telecommunications equipment cost and a high-speed broadband connection with sufficient bandwidth, which are necessary for smooth telehealth consultations.

The widespread use of mobile devices provides a cost-effective option for telehealth consultations. As a result, the barriers to telehealth are gradually being removed, making it a more viable option for patients seeking healthcare services.

Concluding Thoughts

The implementation of social distance regulations in several nations has led to the emergence of virtual healthcare provision. Advancements in technology and new regulations are making telehealth more accessible and affordable.

It takes careful preparation and execution to overcome obstacles when designing telemedicine software. Healthcare providers can create top-notch telemedicine software that caters to the needs of both patients and physicians by addressing regulatory compliance, user experience, security, connectivity, and integration.

To explore further about launching your Telemedicine Platform, please feel free to contact us at [email protected] or call us at +91 99425 76886.

Leave A Comment