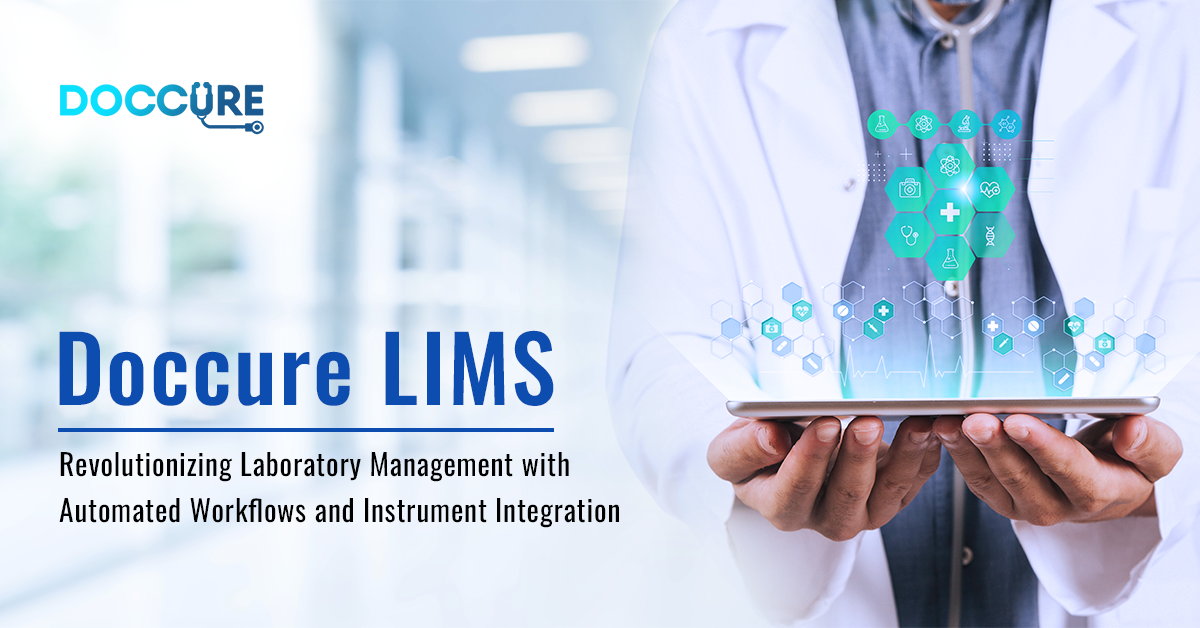 In today's fast-paced world, laboratories need to stay on top of their game to remain competitive !!
If you work in a laboratory, you understand how vital it is to maintain the highest level of accuracy and efficiency. The key to success lies in a well-managed laboratory, which can be achieved by implementing a Laboratory Information Management System (LIMS).
And Doccure is the Laboratory Information Management System (LIMS) you should consider to revolutionize your laboratory management.
Doccure LIMS - A Game-Changing Software Solution For Laboratories

The Doccure Laboratory Information Management System (LIMS) is a type of software specifically created to oversee and organize various data concerning lab experiments, lab workflows, instruments, and samples. This efficient system is aimed at improving the overall productivity and effectiveness of the laboratory.
In the past, Lab Management Software (LMS) was solely utilized for managing samples.
However, thanks to the Doccure LMS application, it is now possible to:
list the diagnostic tests along with their price
designate their location
schedule appointments with laboratories
schedule sample collections
upload diagnostic reports online
Moreover, the LMS is equipped with supplementary features such as:
Secured data management
customer relationship management,
quality assurance, and
faster Turnaround Time
Automated Processes - LIMS
One of the key advantages of Doccure LIMS is its ability to automate workflows, eliminating the need for manual data entry and reducing the chances of errors. Automated workflows can help reduce the workload of laboratory staff, allowing them to focus on more complex tasks that require human expertise.
With Doccure LIMS, you can be confident that your laboratory processes are streamlined, and that your data is accurate.
Reports Integration
Integration of Doccure LIMS with laboratory reports allows for seamless data protection, reducing the chances of errors and improving the accuracy of test results.
This also saves time as it eliminates the need for manual data entry, allowing laboratory staff to focus on other tasks.
Sample Tracking
With Doccure LIMS, laboratory managers can track the progress of each test request in real-time, ensuring that everything is running smoothly and efficiently.
This helps to improve turnaround times and increase customer satisfaction.
Result Reporting
Doccure Laboratory Information Management System (LIMS) offers robust result reporting capabilities. Laboratories can easily manage and report their test results to customers and internal stakeholders. Laboratories can control access to their test results and ensure that only authorized users have access to their data.
This can help to protect the privacy of patients and maintain regulatory compliance.
Notifications
Doccure LIMS sends notifications to patients about their test results via text message or other methods such as email or phone calls to notify them of the progress of their tests. The system can also notify the lab technician about any tests that are delayed, ensuring that they have up-to-date information about the status of all tests.
This helps in streamlining communication.
Single Click Invoice
With Doccure LIMS, generating an invoice can be done in a single click. LIMS will automatically populate the invoice with the relevant data, including the client's name and address, the services provided, and the total cost.
Efficiently managing your laboratory's billing process can save time and minimize errors.
Automated workflows can certainly have a significant impact on laboratory operations and healthcare outcomes.
To Sum Up

Doccure Laboratory information management system (LIMS) is an innovative software solution that can transform laboratory management by enhancing operations and boosting efficiency. With its advanced features and capabilities, including automated workflows and instrument integration, Doccure LIMS is revolutionizing the way laboratories manage their day-to-day operations.
Doccure LIMS is not just a software solution; it is a partner in your laboratory's success!!

Book a DEMO to explore the world of Laboratory management. Get in touch:
[email protected], 91 99425 76886.
Comments (1)
Make the process much easier for managing the slot
Leave A Comment