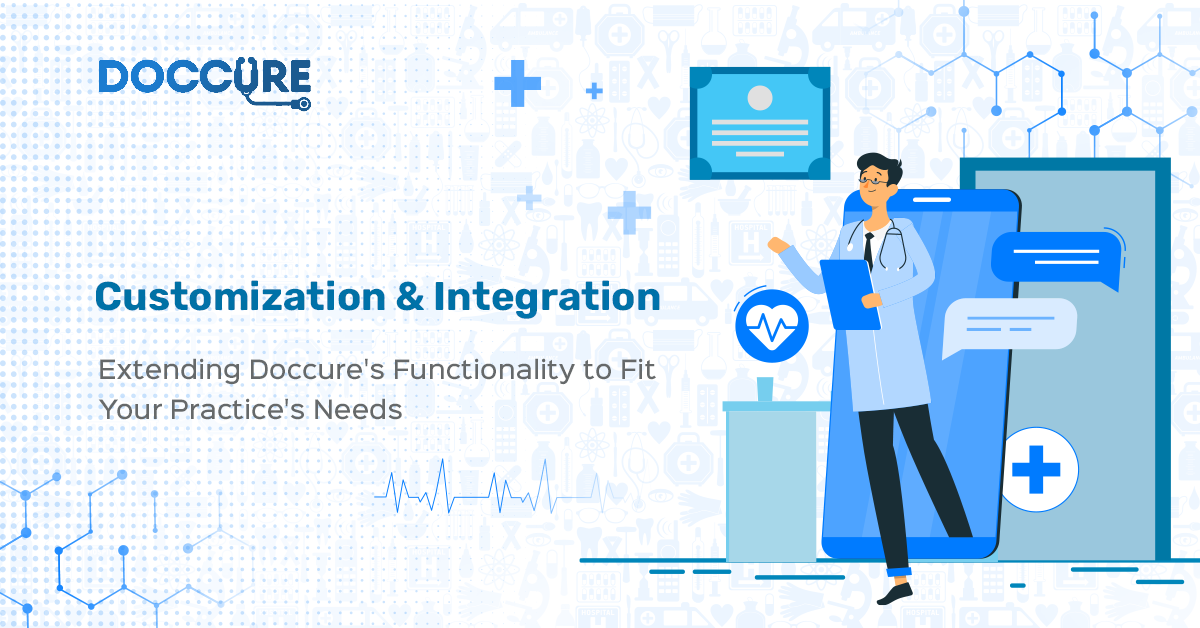 Introduction:
Effective practice management is crucial for healthcare professionals to provide high-quality care while maximizing productivity in the fast-paced healthcare environment of today. A number of features are available in Doccure, a popular practice management programme, to improve patient care and streamline administrative work.
However, customization and integration are key to tailoring Doccure's functionality to suit the unique needs of your practice.
In this blog, we will explore the benefits of customization and integration, along with relevant facts and figures, to help you make informed decisions about enhancing your practice's management capabilities.
Perfect Practice Management Solution
Simplify scheduling, gain insights, and enhance collaboration with the perfect practice management solution.
Intuitive Appointment Scheduling: Doccure simplifies the appointment scheduling process for both patients and staff. The software displays real-time availability, allowing patients to book appointments at their convenience. Integrated with your calendar, it eliminates the risk of double bookings and ensures optimal appointment allocation.
Reporting and Analytics: Doccure offers robust reporting and analytics capabilities, giving you valuable insights into your practice's performance. Generate comprehensive reports on key metrics such as appointment volume, revenue trends, patient demographics, and more.
User Role Customization: Doccure allows you to define user roles and permissions, granting access to specific features and data based on each staff member's responsibilities. This ensures data security and promotes efficient collaboration within your practice.
Integration for Seamless Data Exchange:

Integrating Doccure with other software and systems used in your practice enhances interoperability and allows for efficient data exchange. Consider the following facts:
Electronic Health Records (EHR) Integration: Doccure can be integrated with popular EHR systems, enabling seamless sharing of patient data, reducing duplicate entries, and improving overall care coordination.
Billing and Revenue Cycle Management Integration: Integrating Doccure with billing and revenue cycle management software helps streamline financial processes, including claims submission, payment reconciliation, and reporting, leading to improved revenue capture and reduced administrative burdens.
Laboratory and Diagnostic Integration: Connecting Doccure with laboratory and diagnostic systems facilitates direct transmission of test orders and results, eliminating manual entry errors and expediting diagnosis and treatment.
Benefits of Customization and Integration:

Here are some key benefits your practice can gain by customizing and integrating Doccure:
Enhanced Efficiency: Customizing Doccure to match your workflows eliminates redundant steps, reduces manual data entry, and streamlines administrative tasks, resulting in increased efficiency and time savings for your staff.
Improved Patient Care: Integration with EHR systems and diagnostic tools allows for comprehensive patient information, enabling more accurate diagnoses, better treatment decisions, and improved patient outcomes.
Financial Optimization: Integrating Doccure with billing and revenue cycle management systems ensures accurate claim submission, faster reimbursement cycles, and improved financial performance for your practice.
Conclusion:
Customizing and integrating Doccure with other systems and software can significantly enhance your practice's management capabilities. The ability to personalize workflows and seamlessly exchange data enables streamlined operations, improved patient care, and financial optimization.
By leveraging customization and integration, your practice can maximize the potential of Doccure to meet your specific needs, ultimately leading to a more efficient and successful healthcare practice.
Remember, every practice is unique, so consult with Doccure's support team to determine the best customization and integration options for your specific requirements. Contact : [email protected] / +91 9942576886.
Leave A Comment